OutdoorBOX
Jump to navigation
Jump to search
About OutdoorBOX

Protected computer, designed for the installation in outdoor conditions or in the places that require heightened dust- and moist- protection (industrial plants, car washes, etc.).

Small size and weight allows the installation on the pillars, "frames" or pendulous constructions.

OutdoorBOX can be used as a part of video surveillance systems.
Presentation materials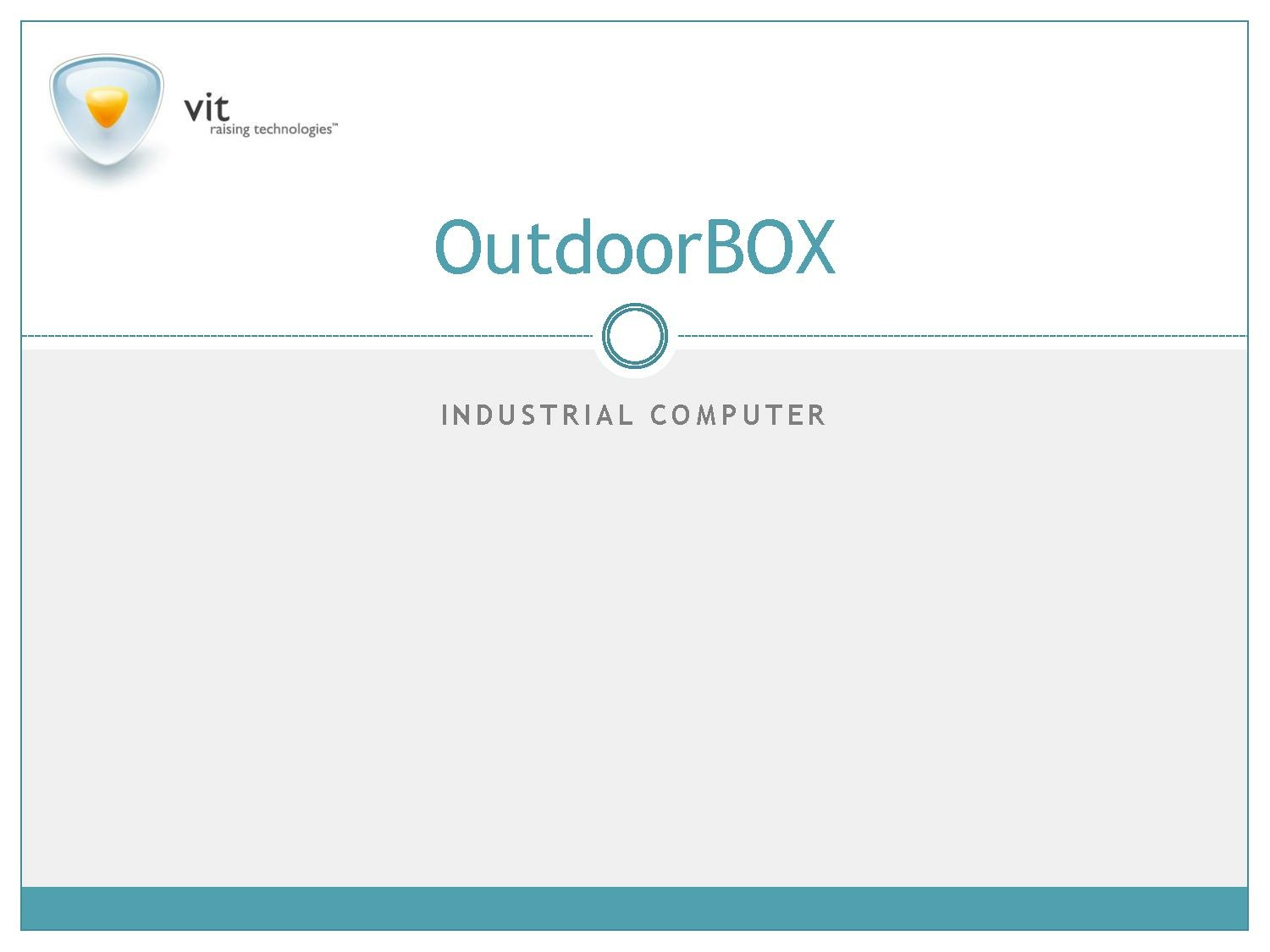 Main characteristics
Small size;
Passive processor cooling system;
Dust- and moist- protection;
High perfomance.
General features
Dust- and moist- protection level IP66;
Wide operational temperature range: -40 …+50°С;
High performance at the level of desktop systems;
Hardware watchdog timer to provide the operational time 24/7;
Power voltage 10 … 26 V (12 V recommended), possibility to work from the onboard vehicle network;
Interfaces: Ethernet, USB, VGA;
Dimensions (mm): 250х250х140 mm and weight less then 7 kg;
OutdoorBOX can record up to 64 video channels;
Depending on the computer configuration and the surveillance system.
Optionally may be included
GPS;
Additional SSD\HDD;
WiFi;
WiMax;
Discrete control and input module ("dry contacts"), 4 input + 4 output;
Video capture card (up to 8 channels);
RS485 interface board (4 independent channels).
Video surveillance construction schemes
Analog camera + video capture board

Cameras are connected directly to the video capture board, which is installed in OutdoorBOX.
Analog camera + IP-server

Cameras are connected to the IP-server, which digitizes signal and transmits it to OutdoorBOX by TCP/IP protocol.
IP-camera

Camera transmits compressed signal (MPEG-4, H.264, MJPEG) to OutdoorBOX by TCP/IP protocol.
Configuration
Model
OutdoorBOX i3
OutdoorBOX i5
OutdoorBOX i7
Processor
Intel® Core™ i3-3220T / i3-3240T
Intel® Core™ i5 3750T
Intel® Core™ i7-3770T / Intel® Core™ i7-4770T
Chipset
Intel® H77 / Q77
Intel® H77 / Q77
Intel® H77 / Q77 / Q87
RAM
up to 16 Gb
(min 4 Gb)
up to 16 Gb
(min 4 Gb)
up to 16 Gb
(min 4 Gb)
Drive*
SSD up to 2 Tb
(min 128 Gb)
SSD up to 2 Tb
(min 256 Gb)
SSD up to 2 Tb
(min 512 Gb)
Power consumption:
without heating
with heating

up to 80 w
up to 180 w

up to 80 w
up to 180 w

up to 80 w
up to 180 w
Cooling and control scheme
+
+
+
Outdoor case
+
+
+
Power supply unit
+
+
+
*It is possible to replace SSD with HDD